By Kate Tracy  –  Reporter, Denver Business Journal
Sep 12, 2022
The developers of the Park Hill Golf Course property have released new details for what they would like to develop on the 155-acre site. 
Westside Investment Partners and The Holleran Group are the developers behind the land that Glendale-based Westside purchased in 2019 for $24 million.
At the meeting last week, Westside principal Kenneth Ho spoke to a packed house of 300 neighbors and community members about plans to deliver more than 25% of all future housing on the site as permanent, affordable housing.
Ho was encouraged by the turnout at the meeting and said that next steps for the project would be to continue soliciting feedback from the community and eventually get Denver City Council's approval on the project before heading to a citywide vote sometime in 2023.
A further breakdown of Westside's proposed affordable housing indicates several hundred new homes that would be both for rent and for sale. About half of the total affordable housing would be for-sale homes for residents who make between 70% and 120% of the area median income. On the rental side, Westside proposed to build units that would be available to residents making less than 30% of the area median income, and would include two- and three-bedroom units.
Westside will be responsible for all horizontal development on the site, if the development gains the approval of Denver voters. With the passage of Initiated Ordinance 301 last November, any future development at Park Hill Golf Course — or any land with a conservation easement — must be approved through a citywide vote.
Ho did not provide the Denver Business Journal with a specific number of new housing units, but said it would be in the mid-2,000 to mid-3,000 range.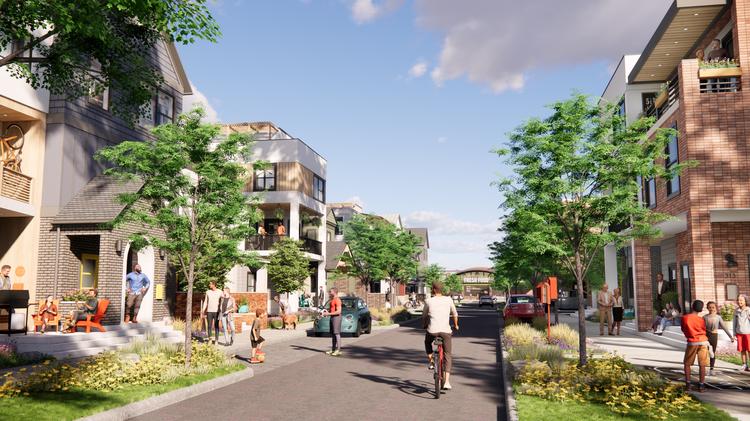 Westside revealed earlier this summer its plans to designate approximately 100 acres as parks and open space, including miles of new trails and greenways throughout the site, and renderings portray parks and open space abutting commercial and residential buildings. Ho said the developers plan to plant up to 1,000 new trees on the site and work with the Butterfly Pavilion to create better biodiversity and pollination.
"It was really important to a lot of folks that safety in this neighborhood is key and they recognize that a park with housing and commercial uses is going to be more active and safe than a park alone," Ho told the Denver Business Journal.
Penfield Tate, a member of Save Open Space and a former Colorado legislator, is a long-time Park Hill resident who opposes development on the Park Hill Golf Course and wants to keep the entire 155 acres as open space. Tate maintains that the conservation easement on the property includes use as recreational parks or open space, while Westside argues that the conservation easement requires using the land as solely an 18-hole golf course—so open space use would also require the lifting of the easement, according to Westside.
"We're not opposed to affordable housing…we are in favor of preserving what little open space and recreational area we have because it's rapidly dwindling. You don't need to smother concrete on these last sites of open land," Tate said.
Ho also said that the community expressed a desire for healthy food options at the site, so a grocery store is part of the conceptual plans at the site as well. Renderings show a conceptual Main Street running through the development, where Westside plans to have restaurant spaces and commercial spaces for uses such as business and entrepreneur incubators.
"Not only are we going to have the affordable commercial spaces, but when you combine that with affordable housing, that means that you can have these small businesses and local business owners living near their businesses within their community and staying there long term," Ho said.
"There's a long history of disinvestment in this neighborhood and we want to reverse that. At the same time, we're going to want to prioritize policies that keep the community intact and actually bring people back into the community," Ho said.
Westside also announced Brothers Redevelopment, Habitat for Humanity, Elevation and Volunteers of America as its potential housing partners.
Westside's plans at the Park Hill Golf Course are subject to a hearing and vote from both the Denver Planning Board as well as Denver City Council before heading to a citywide vote.
"We recognize how parks contribute to public health in our city, but we also recognize the importance of quality, affordable housing, diversity and access to healthy food and economic opportunity. All these things come together to create great neighborhoods and a great city and that's why…we're putting forth this vision for parks and homes at the Park Hill Golf Course," Ho said.